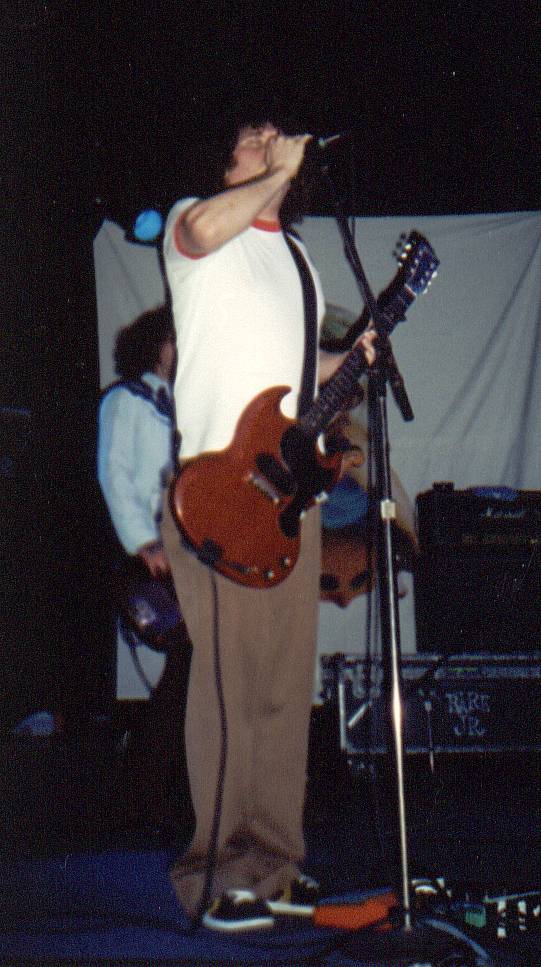 Upcoming Shows
Mon, 09/06/2004 Austin, TX Threadgills (appearing w/ Bottle Rockets) Thu, 09/09/2004 Atlanta, GA Criminal Records (appearing w/ Instore performance at 6pm) Thu, 09/09/2004 Atlanta, GA Smith's Old Bar  Fri, 09/10/2004 Birmingham, AL The Nick  Sat, 09/11/2004 Mt Pleasant, SC Village Tavern  Wed, 09/15/2004 New Orleans, LA Howlin Wolf  Thu, 09/16/2004 baton Rouge, LA Chelsea's  Fri, 09/17/2004 Dallas, TX Gypsy Tea Room (appearing w/ David Garza) Sun, 09/19/2004 Austin, TX Austin City Limits Fest  Wed, 09/22/2004 Champaign, IL High Dive  Thu, 09/23/2004 Minneapolis, MN 400 Bar  Fri, 09/24/2004 Iowa City, IA Gabe's Oasis  Sat, 09/25/2004 Bloomington, IN Second Story  Sun, 09/26/2004 Chicago, IL Hideout Block Party  Tue, 09/28/2004 Newport, KY Southgate House  Wed, 09/29/2004 St Louis, MO Off Broadway  Thu, 09/30/2004 Norman, OK Opolis  Sat, 10/02/2004 Denver, CO Larimer Lounge  Sat, 10/16/2004 New York, NY Union Pool 





On this page I'll include reviews of the shows I've seen by this band, both recently and in years past. I'll also include reviews that others send me.
September 11,2002
I saw Bobby Bare, Jr Sunday night at 3rd & Lindsley here in Nashville. He played with Bare Jr, along with a horn section. They played his entire solo album; however, it was cranked up a few notches in keeping with the Bare Jr spirit. I have to say that the show definitely kicked ass. His solo album is somewhat a departure from Bare Jr, but it's a very excellent album. I can't wait to see them again in October.
Troy Sullivan
I first saw barejr. here in indianapolis, they were opening for robert bradley...it was a great show! I had a chance to have a few beers with the boys after.. they are a fun group,very friendly, and clearly are having a great time performing! I'm look forward to hearing the new album, and checking out a show when they make it this way!I wish them the best! (posted by Mary Kate Mulligan)
March 17, 1999 Greensboro NC
I will have to say I didn't know what to expect from Bare Jr when I showed up. Like most other people there, the only song I knew at the time was "You Blew Me Off". Was I glad I got to catch their whole set! The energy with these guys was incredible! Plus, after the set, they hung out and talked to everyone, and signed autographs. (Being a musician myself, this is the best way to be!) I've been hooked ever since, and I'm looking forward to seeing them again!