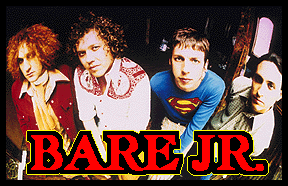 Hey everyone! Make sure you send me any of your show reviews, set lists, and anything else Bare Jr. related. I'll get it all added to the site as fast as I can. This site is made for and designed by Bare Jr. fans, and your help makes it all work the way it should. So sign the guestbook, or email me with what you have!!
Hey kids! It seems to me that this is the one and only Bare Jr. site that is still up and running. Lets all give thanx and praise that Bloodshot Records is still willing to let Bobby Bare Jr. write and record the music he wants to. He deserves all of our love and support, so get off of your butts and buy his new album "Young Criminals' Starvation League". Not the same style of music as the Bare Jr albums, but the same great lyrics and emotions. I'll keep ya'll up to date on shows, and if you ever make it out Seattle way, look me up!
Bobby, or Junior (as we call him when hes not listening) has already had quite the life in music. Son of country music royalty Bobby Bare (singer of such classics as "Detroit City, "Millers Cave," and "500 Miles Away From Home" and 56 other Top 40 country hits), Bobby was nominated for a Grammy for a duet with his father at the age of 5. He even sang on the Ryman stage on its closing night. Dont know about you, but at 5 most of us in the office were still working out the intriguing mysteries of the bathroom and figuring out how they fit all those little people in the TV. He has been honing his performing and writing skills ever since
Since the late 90s he has been fronting the boss hog rock band Bare Jr. With their two records, "Boo-tay" and "Brainwasher," they memorably rocked out on a Nirvana-on-Skynryd-not-Sabbath groove, more indebted to the homebrew than "The Other H."
Few that we have found can combine humor, pain, and anger in such an effortlessly well-crafted manner. If encountered in public, beware: he is big, gregarious, good-natured fellow who will giddily talk music (from the Smiths to Roger Miller to Metallica to Dolly Parton ----sometimes in one breath) until the bartender is tossing you both out.
Make sure you check out this site too! It's the band The Low Budgets from Philly! They just released a limited edition 7", so order it today!





Bare Jr is:
Bobby Bare Jr: Vocals and Guitar
Dean Tomasek: Bass
Keith Brogdon: Drums
Tracy Hackney: Dulcimer


Click to subscribe to BareJr
Buy Young Criminals Starvation League Here!